MASON CITY | Gratia Brown of Cedar Rapids received Best in Show in Iowa Crafts: 41 for her hand-built assembled ceramic artwork, "Triumph of Foam Over Mertar."
Award winners were announced at the opening reception of at the Charles H. MacNider Art Museum on Dec. 7. This award grants Brown a solo exhibition next year in the museum's Center Space Gallery.
The statewide competition was open to all artists above high school age living in Iowa. Forty-four artworks by 32 artists were selected for the final show.
Iowa Crafts: 41 can be viewed in the Museum's Kinney-Lindstrom Gallery through March 1, 2014.
The Best in Clay award of $150 went to Aaron Moseley of Iowa City for his clay vessel, "Blue Raku." Special mention ($50) was awarded to Steven Sandberg of Manchester for his Stoneware clay piece "Orange You Glad I Didn't Say 'Banana'?"
The Best in Fiber award of $150 was given to Kimberly Baxter Packwood of Ames for her silk wall hanging, "Hoodoos No.2." Special mention ($50) was awarded to Susan E. Kuennen Massman of Elgin for her basket, "Untitled (Deer Antler Basket)."
The Best in Metal/Wood award of $150 was given to Bruce J. Meurer of Algona for his wooden sculpture, "Warrior with Bearskin Cloak." Special mention ($50) was given to Dennis Marsh of Mason City for his Arts & Crafts "Hall Chair."
Special Mention in Jewelry ($50) was awarded to Melissa Lovingood of Mason City for her "Gold Dot Brooch."
The Best in Other Craft Media award of $150 was given to Elissa Cox-Wenthe of Fayette for her mixed media piece, "Reach." Special mention ($50) was awarded to Judy Bales of Fairfield for her innovative fashion piece, "Niagara."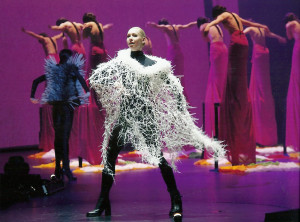 Read the complete article on GlobeGazette